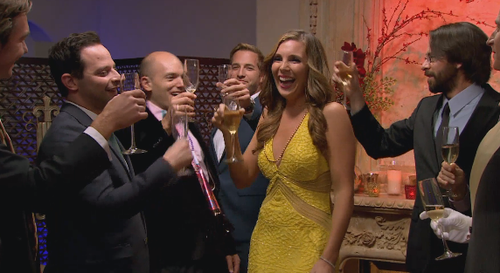 Burning Love — Funniest Show You've Never Heard of
In 2012 Yahoo took a gamble and produced a web series lampooning the popular reality show The Bachelor called Burning Love. Season 1 starred Party Down alum Ken Marino as firefighter Mark Orlando as he searches for the perfect woman. Season 1 picked up multiple award nominations including an Emmy nod. Season 2 started a couple weeks ago starring June Dean Raphael as a jilted contestant from season 1 searching for her own husband. Season 2 has upped the ante with a killer cast of the biggest names in comedy. Paul Scheer, Michael Cera, Michael Ian Black, Joe lo Truglio, Adam Scott, Colin Hanks, Adam Brody, and many more make appearances as either contestants or  side characters. The show is laugh out loud hilarious and Yahoo posts new episodes every Thursday and Friday. June Dean Raphael's turn as the mentally unstable Julie is a spot-on spoof of the women you see on The Bachelorette.
E! recently started broadcasting episodes of season 1 on their network.