Gone are the days when all men had to do was get out of bed, put on anything and not have the fashion police chasing after them… Times have changed and fashion is everything… from clothes, to accessories, to styling patterns and colours to even how you keep your hair…
It's no wonder, then that we decided to take the not-so-stiff-yet-not-so-casual 'Blazer aka Sports Jacket' head on! You love it for its versatility but abhor it for the confounding number of combinations you can make with it
#Some Rules
Always try and have a collection of blazers in your wardrobe – solid colour and patterned (plaid, stripes, houndstooth). These can be standard two-buttoned blazers. A third can be your double-breasted blazer for a very formal do.
Make sure the fit is right…not too tight not too baggy but has enough space to accommodate layers.
Always contrast your shirt and blazer ensemble
Blazers come in many forms – Cotton/Linen for summers, Wool Blend/tweeds – for winters, flannel, corduroy and herringbone.
# Now How Many Ways to Wear Blazer
Casual to Semi-Casual Blazers
#Look 1 –A Summer Soiree – Linen Blazer in Khaki paired with a custom-fit short-sleeved white dress shirt and white fitted pants and espadrilles /or beige linens that are not fitted.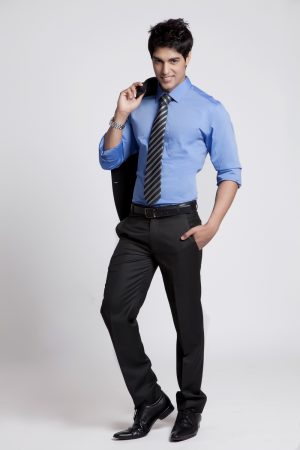 #Look 2 – A Fun Afternoon Wedding – Summers are fun to play with colours…. Get bold with a splash of colour in your wardrobe. Flirt a little with mauve or turquoise blazers and team it up with a funky printed shirt – geometrical, floral or digital patterns.
# Look 3 – A Smart Casual Luncheon-cum-meeting – Cream, Navy, Charcoal are your best bets, team up it with a pair of jeans and sneakers or chinos and loafers.
# Look 4 – Business Casual at work – Come winters, you can sport a charcoal tweed with a rust oxford custom-fit shirt or keep it low with a white one.
# Look 5 – Work to Dinner Date Mode – Navy Blazer paired with a classic-collared check shirt/striped and slim-fitted pants. Out of work, untuck you shirt if it has a rounded bottom.
# Look 6 – Get Trendy – Try a waistcoat-blazer combo for a swanky dinner out. With dark black straight cut denims, brogues, and a patterned shirt.
These are your double-breasted blazers usually in black or navy blue. Navy Blue is a classic look adopted by most men. For a formal look opt for subtle solid colour dress shirts like polo shirts or oxfords in light blue or white…for a semi formal look…match it up with flannel trousers in grey or a chino. In the winters, cardigan or sweaters inside the blazer look good. Opt for a solid coloured cardigan, a patterned dress shirt in stripes or checks and solid blazer.
With these basic styles in mind… you don't need to worry about the gazillion combinations that may or may not look good. Just remember nothing beats a custom fit shirt and blazer.