Moving to a new state can be challenging and exciting at the same time. It can be challenging because the entire process of moving is never easy. For starters, you need to look for reputable moving companies NYC or trust the internet to provide you with accurate results once you type in "movers near me" in the search tab. You have to carefully assess each of your options so you'll end up hiring the best moving company suitable to your needs and wants. Moving can also become exciting because a new state can mean new opportunities and a better quality of life. If you want to achieve these goals when moving to a new state, follow these tips to help you get started:
   Create a budget and start saving.
Aside from the time and effort, moving to a new state will require money from you. Even if you're able to find a cheap home in a cheap neighborhood, you still have to pay for moving companies (if you're planning to hire one), transportation costs and packing materials. This still doesn't include the expenses you'll have once you purchase new pieces of furniture or appliance for your new home.
To ensure that you won't fall into any financial turmoil, create a budget and start saving before moving. Decide what kind of move you're going to have and when you're going to do it. Think about all the possible expenses you'll have along the way and don't forget to save for emergency funds, too.
   Decide what you're moving and disposing.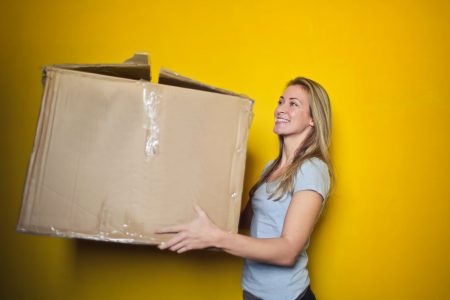 If you have been living in the same home for years, it's safe to assume that you've invested a lot of things in it; you've purchased pieces of furniture and appliances for your current home.  But just because you own all of these doesn't mean that you should bring everything to your new home. In fact, you should take time to go through all of your valuables and decide which should be disposed of. This includes clothes, old pieces of jewelry and appliances. If these items are still usable, consider giving them to charity and organizations in your area. Doing is an easy way of saving yourself from paying expensive moving costs for items which will only collect dust.
   Look for a home.
Regardless of how urgent you would want to move, you should never do it unless you already have a home. For sure, you don't want your family to stay in the streets when you already left your present home. Before scouting for professional moving companies, scout for your next home. As much as possible, your home should belong in a safe community with a trustworthy neighborhood. It should also be convenient to public transportation (if you don't have your own car) and near your place of work. And most importantly, your next home should be suitable for your budget. You should live in a home which you can afford in order to avoid being in debt.
   Care for your kids.
The stress you'll experience can heighten when you're moving with kids. Aside from having a lot on your plate, you'll also have to think about the welfare of your kids. If they grew up in your current home and have a lot of friends nearby, explaining why you're moving can be challenging. They might already be accustomed to their present environment and change might be scary for them. For this kind of situation, sit down with your kids and discuss the details about the move. As a parent or guardian, you should assure your kids that everything will be okay and that he or she will still be surrounded by friends, even in a new location.
   Ask help from friends and family.
Moving can be stressful especially if you're doing it for the first time. You might have an idea on what you should do, but because you don't have any experience in a move, you'll be clueless about how to execute tasks. To make things easier for you, ask help from friends and family. This can be helpful especially if your social circle has moved to another state in the past. They can provide you pointers on the tasks you have to accomplish before, during and after the actual moving date. They can also give you suggestions on reputable moving companies in your location. Your friends and family can also lend a helping hand by looking after your children or pets and by assisting with your packing.
Use The Right Help
A lot of people have been used to their current homes which are why moving can be scary for them. A new environment might mean new friends and a new job, but this can also require adjustment from them especially for the kids. If you're someone who shares the same sentiment, relax and learn from this article. Once you know how to get started when moving to a new state, everything else can come off easier.