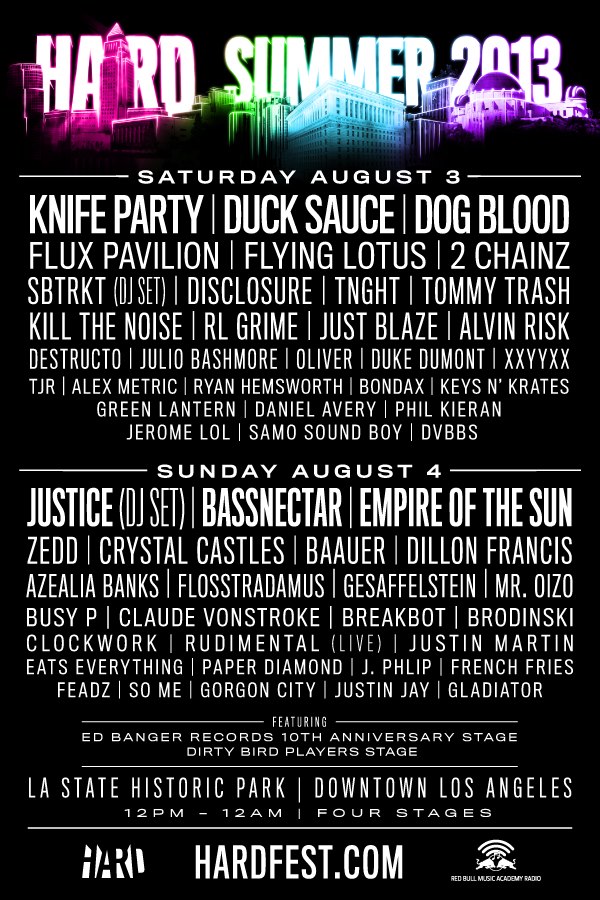 We heard from our friends over at Travel Hymns that the HARD Summer 2013 Lineup leaked this morning. And wow, did it ever.
Just check out this official trailer.
This could potentially be the biggest year of the festival ever. We imagine it's only a matter of time before this increasingly popular festival really blows up. We advise you to purchase tickets immediately if you intend upon going as the early bird tickets have already completely sold out. A stellar lineup will only hasten the inevitable sell-out over general admission tickets.
Who are we most looking forward to? Right now we're more or less freaking out about Empire of the Sun, Duck Sauce and Dog Blood's HARD debut. Regardless of who we personally end up seeing, there's enough to leave the entire crowd thoroughly satisfied. Incorporating the Ed Banger Anniversary Stage is an exciting proposition to say the least.
Now the last thing we need before we set out and make dancing fools of ourselves is the official HARD Summer 2013 Lineup set times. That could certainly be a game changer for some of us.