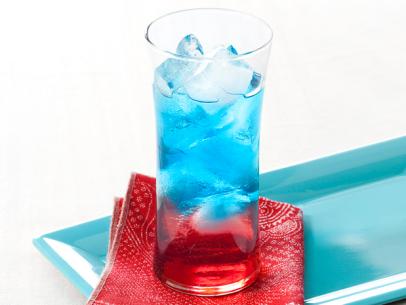 Ah, Fourth of July. A day to celebrate our nation's independence, stuff our faces with delicious BBQ, and rage like it's no one's business. The Fourth is always a great time to strap on your bathing suits, hop in a pool, and kick it with your best friends. But why spend this year's Fourth of July with the same old boring beer you drink year after year? It's time to spruce up America's birthday with some patriotic cocktails you and your friends are sure to enjoy.
The Yankee Doodle
This one comes from our friends at RollingOut.com and is super simple to make. All you need is one part UV Blue Raspberry-flavored vodka, one part tonic water, and two parts sour. Put those all together and serve that bad boy over ice and you got yourself one hell of a drink.
The Hawaiian Margarita
If you're looking for a frozen drink to sip on all day long, you will definitely want to check this out. Using a cup of ice, 1 1/2 ounces of tequila, 1/2 ounce of triple sec, 2 ounces of fresh or frozen strawberries and pineapples and just a splash of sour mix, you can blend this concoction and garnish with a pineapple for the ultimate Hawaiian experience.
Guy Fieri's Fourth of July Cocktail
This spicy concoction comes straight from Food Network's Guy Fieri. All you need to do is mix up one ounce of watermelon schnapps with a "big splash" (oh, Guy!) of cranberry juice in a shaker and pour that into an ice-filled glass. Crush up some thinly sliced jalapeno peppers, a slice of lemon and a slice of lime with 1 1/2 ounces of tequila, 1/4 ounce of blue curacao, and 1/2 ounce of simple sugar and put that into the shaker. Strain into the glass and BOOM a red and blue drink to get you and your friends tanked.
Remember, be safe out there. Party responsibly!
What are your favorite cocktails for Fourth of July? Tell us on our Facebook page!