Many people want a fish aquarium in their home, especially a cool one that is maintained well. But the newest popular aquarium around isn't for any ordinary fish; it is designed for the jellyfish.
The Pulse 80 Jellyfish Aquarium has been around for 3 years and is definitely pretty cool. I expected it to be bigger, but it is actually pretty small. It holds 23 gallons of water and can home 13 different species of jellyfish. The aquarium provides jellyfish with pristine living conditions and looks awesome in any room. The tank has gone through many trials and is scratch resistant. It even comes with LED lights that display over 600 thousand different colors.
I read a blog from a guy who actually tried to have an aquarium, so I was interested in what his thoughts were. He didn't go into too much detail, but did say that The Pulse 80 is easier to maintain compared to a regular aquarium. This surprised me. It seems to be more of a decorative piece than anything else.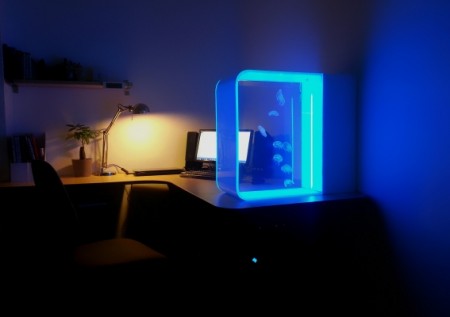 If it is easier to maintain, then it is probably cheaper to maintain as well. The aquarium itself costs around $1,300. I do not think this includes the jellyfish and have no idea how much those run. I also am not even sure if you can get them at a regular fish store. If anyone is serious about getting one, it sounds like a lot of research would be needed.
So of course this cool aquarium is a little pricey and may cost some extra reading time, but it looks awesome and would be a cool addition to any room. From the looks of it, it looks well worth the price.