When attending the prom, or an equally formal event, what your date plans to wear will have a bearing on how you both look as a couple, therefore, you should know in advance what he plans to wear for the special occasion. If you are not feeling so confident about your dress sense for such a big occasion, here are a few tips to ensure that you both complement each other.
Be On The Same Page – It is important that you both know the dress code, so spend a little time with your partner to make sure they are fully aware of the dress code. Getting this wrong could be more than a little embarrassing, so do communicate with your date well in advance, which will ensure that you are both dressing suitably for the occasion.
Don't Aim For A Perfect Match – Rather than striving for a perfect match, you ideally want to complement each other. If, for example, your date is wearing a specific colour, check out the best online prom dress stores, where you could find a dress that has the right shade that will look coordinated, rather than being a perfect match. Buying designer dresses online offers you a much greater choice, and you can always send your date an image of the outfit before you make the purchase, just to be on the safe side.
If In Doubt, Talk To The Host – If, for example, you are attending a wedding, and the invitation says, "dressy casual" and you are not sure what that means, you are advised to ask the host. This is much better than turning up over or under dressed, and this does happen to some unfortunate people, so a simple question for the host couple is all it takes to understand the dress code.
Make Decisions and Stick to your Guns – It is oh so easy to decide on an outfit, only for a friend to mention that it is too glitzy, or rather bland. If you and your date are happy with the way you look, then go ahead and enjoy the party. If you ever notice that the people who seem to be enjoying themselves, actually are, you will realise that being comfortable with your clothing choices takes away any doubt you may be harbouring.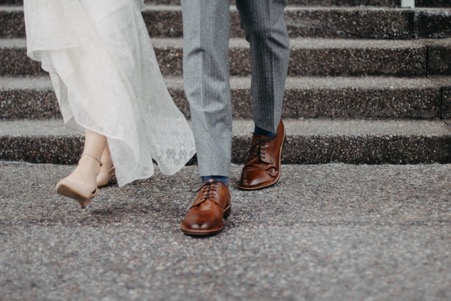 The secret to a co-ordinated look is communication, and even a dress rehearsal is a good idea. Get together the week before the big day and swap notes, and with some clever accessorising, you will both balance each other out. If getting together prior to the event is an issue, make best use of technology and send each other images, which will allow you both to see what the other is planning to wear. Remember to avoid a complete match, as this is a little too much, and with a little careful planning, you will both be the couple that shines.