The 2015 MLB All-Star Game is full of young talent this year. The game takes place on Tuesday, July 14th at the Great American Ball Park in Cincinnati. It isn't all fun and games though; the winning league of the game gets to host the World Series.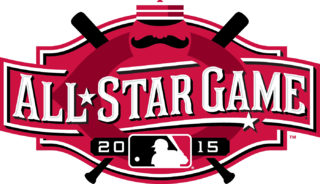 The American League has quite a few of Kansas City Royals like starting catcher Salvador Perez and shortstop Alcides Escobar. Other American League starters include outfielder Mike Trout from the Los Angeles Angels and 1st baseman Miguel Carbrera of the Detroit Tigers. The Tampa Bay Rays' pitchers Brad Boxberger and Chris Archer are also on the roster. Since Carbrera is currently injured, reserve 1st baseman Albert Pujols from the Los Angeles Angels or Mark Teixeira from the New York Yankees will be starting.
The National League has a solid starting roster that includes 1st baseman Paul Goldschmidt from the Arizona Diamondbacks, Catcher Buster Posey of the San Francisco Giants, outfielders Bryce Harper from the Washington Nationals and Matt Holliday from the St. Louis Cardinals. Pitchers include Max Scherzer of the Washington Nationals, Zack Greinke from the Los Angeles Dodgers and A.J. Burness of the Pittsburgh Pirates. Holliday is also injured so one of the four reserve outfielders like Justin Upton from the San Diego Padres or Arizona Diamondbacks A.J. Pollack will start.
The game is a lot of fun for players and fans, but there is a lot on the line since the winning league gets to host the World Series. The MLB has received a lot of negative feedback since they announced this, but you could look at it that it will add more competition and excitement to the game.
This year there are a lot of young and upcoming players that were voted on the teams. The league's youth is really well represented this year. An interesting fact, the all-star roster features 35 players that are age 27 or younger. The roster also includes 28 first time all-stars along with two rookies.
You can tune into the 2015 MLB All-Star Game on Fox. Coverage starts at 7pm eastern and the game starts at 8pm eastern.
Feature image courtesy of azcentral.com.