Arizona is home to some great breweries you that you can't miss when visiting the Grand Canyon state. The delicious and refreshing beer is a great way to escape the desert heat. Just make sure to drink responsibly!
Four Peaks Brewery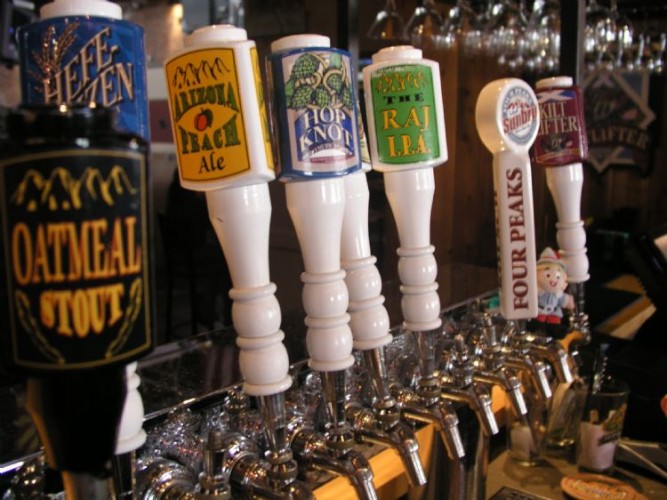 Four Peaks Brewery first opened in 1996 in Tempe. The original location is located not far from Arizona State University in an old creamery on 8th street. It is a really cool place to go and have dinner and beer. It is the most known and successful brewery in Arizona and produces about 38,000 barrels of beer a year. They opened another location in Scottsdale and most bars and stores offer Four Peaks beer. They have an amber ale called Kilt Lifter that is pretty popular and very tasty. The Arizona Peach is a light ale with a hint of peach flavor. Four Peaks also has their very own stout called Oatmeal Stout. This is a very dark beer, but actually really good. You can check out more of their beers at their website.
San Tan Brewing Company
Another valley favorite is San Tan Brewing Company. It is not quite as popular as Four Peaks but it still has some really good beer and can be found at a lot of places throughout Arizona. The brewery is located in Chandler and specializes in southwestern style ales. They claim to have designed the beer for the hot, dry climate in Arizona. The beer is refreshing and in a way quenches your thirst. Mr. Pineapple is a light ale that is delicious and really tastes like pineapple and is often served with a slice of the fruit. Devils Ale is another ale that is pretty good and is a popular San Tan beer. The brewery also offers a special series that has a Hibiscus pale ale that I have been wanting to try. Don't worry, San Tan offers a lot more than just ales! Check out their beers at their official website.
Mudshark Brewery
Mudshark Brewery is from Lake Havasu and is becoming more and more popular around Arizona. It has some pretty tasty beers and can be found on tap at a lot of bars and even in cans and bottles at many grocery stores. Mudshark attends a lot of beer festivals across the state and not only have their regular beers, but offers seasonal beers. The Watermelon Ale is absolutely delicious and served up with a slice of watermelon. In the fall, the Pumpkin beer is fantastic and served with a cinnamon sugar rim. The brewery also has their own IPA and a beer that is very similar to Blue Moon, called Full Moon. Mudshark boasts they use the best ingredients and are pushing towards greener beer. Check out more information here.
Oak Creek Brewing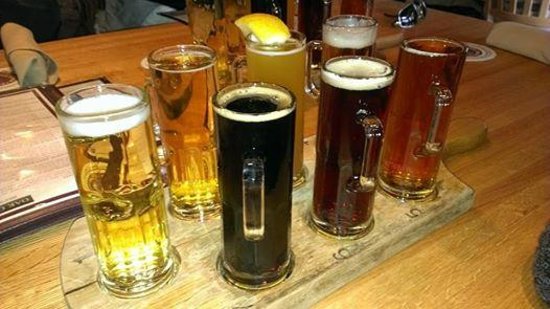 Oak Creek Brewing is located in gorgeous Sedona. It is not very popular, but can be found at some places across the state. The have been around for 20 years and have good beer, but nothing too special. It is growing though and hopefully they will offer more varieties of beer. Right now they have a popular nutty flavor beer called Oak Creek Nut Brown Ale. They also have a pretty good traditional hefeweizen. Their Oak Creek Pale Ale is another popular one that is very crisp and refreshing. More information is on their website.
Nimbus Brewery
Located in Tucson, Nimbus Brewery has been around for about 20 years. It is getting more and more popular and can be found at more bars and stores all the time. It isn't a big name yet, but becoming one throughout Arizona. The American Red Ale is really good and one of the most known beers. It is similar to an amber ale. The Northwestern Pale Ale came out in 1997 and is a good, traditional ale, just nothing really special. The Monkey Shiner is a beer that has higher alcohol content but is tasty. It is a fun place to go to and has a really friendly staff. Check out their website for more information.