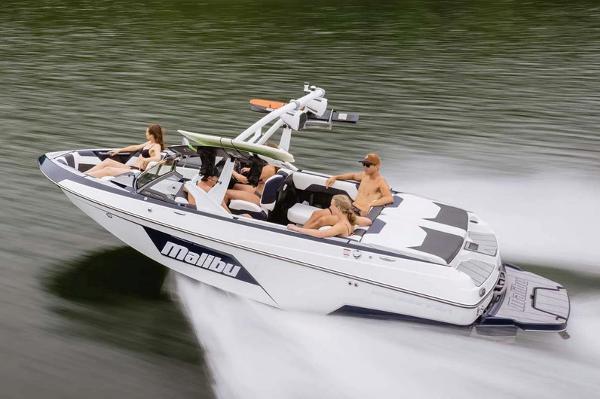 A name can mean a lot of things for a company. For Malibu Boats, it has been a source of pride and recognition for their manufacturing process. There are three main reasons to purchase a Malibu Boat, and that doesn't even include the great price.
1. Branding
Branding is the first thing you'll notice when looking at Malibu Boats for sale. Since 1982, the company has been laser focused on top tier recreational boats. Originally founded in California, the company has since moved its main headquarters to Tennessee. Outside of the U.S., a few of their production facilities can be found in Australia. Those three locations are prime real estate for anyone that knows anything about sailing. The company set itself up for success by building in areas that are surrounded by boat enthusiasts.
CEO Jack Springer has done a good job with making sure the company is not just another 'luxury' brand. Although that is one of the selling points, Malibu Boats doesn't fall into the trap of stuffing their boats with needless filler. A Malibu Boat is a sum of all of its parts rather than a product that leans into untested features.
The four main brands are Malibu, Axis Wake, Pursuit and Cobalt. Out of those four, Malibu is considered a premium brand both for its looks and long-term performance. It's as much of a status symbol as owning a Porsche, and will last just as long with proper maintenance.
2. Maintenance
If you've ever owned a boat, then maintenance takes a little getting used to. Boats are not like cars, and you can't just roll into a random shop when something seems off. When you're investing in a luxury boat, familiarity with the parts is a must. Most boat mechanics are familiar with Malibu Boats and the Malibu family of boats. That means less of a headache when going for repairs, and more importantly, a much smaller bill. Malibu Boats have been around forever, and the parts are easy to source. But with proper maintenance, you won't even have to worry about surprise check-ins with the local boat mechanic. Consistency and longevity are a big part of being a Malibu Boat owner.
3. Cutting Edge
Malibu Boats are bigger, faster and more up to date than the competitors. The Powered Swim Step is a push button convenience feature that replaces the flip down swim step. For the best touch screen interface in the business, nothing beats Malibu's M-Line Command Center. And when the humidity is out of control, the GX Tower Misters are a game changer for keeping your guests cool. All of this is part of the Malibu Boats package, and shows how their cutting-edge tech is in a league of its own.
Buy the Best
Don't settle for less when you plan to cruise on the open waters. Malibu Boats are a great buy, and one of the biggest recreational boat manufacturers in America. Their name carries weight, and their products ooze quality.