The R2-D2 Ana Jet made its first flight last weekend off from Haneda, Japan to Vancouver, Canada. Thanks to All Nippon Airways, the mastermind behind the Star Wars themed 787-9 Dreamliner, now all Star Wars fans have the chance to hit the skies in this Star Wars jet.
Everything from the inside out is dedicated to Star Wars, mainly R2-D2. The official website says it chose the droid R2-D2 as the main theme character and its face of the jet because R2-D2 is known to "never fail to complete his mission and surprise us with his clever solutions." The outside of the jet resembles R2-D2 and the inside has seatbacks that have coverings of the character and also napkins and cups with the famous droid.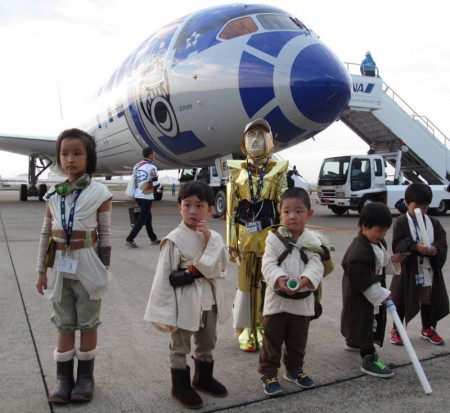 The day before the jet took its first international flight, it took lucky fans on a fan appreciation flight. Hundreds of fans were dressed as their favorite characters and were able to experience the jet before anyone else for a short flight across Haneda. There were some very special guests in attendance for the fan flight as well. Storm Troopers, Chewbacca, a handful of C-3PO's and padawana were all there to celebrate the R2-D2 Ana Jet.
For the next month, the main route of the R2-D2 Ana Jet will be from Narita, Japan to San Jose, California. The flight paths will start to expand in December when the jet starts to head from Haneda to Seattle, Sydney, Jakarta, Beijing, Munich and Paris.
Decades after the first Star Wars film was released, the franchise is bigger than ever. Not only does it attract fans that have been following Star Wars since day one, but it also is poplar amongst a younger generation. The R2-D2 Ana Jet is just another way for Star Wars fans to enjoy all of their favorite characters.