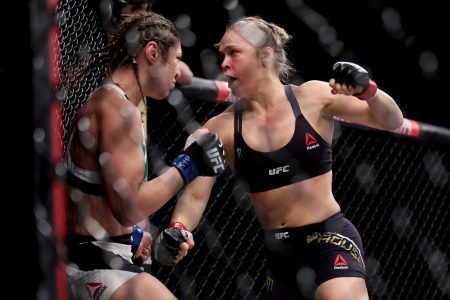 Ronda Rousey did exactly what she said she was going to do, knockout Bethe Correia. The fight only lasted 34 seconds, but Rousey pounded her opponent in that short amount of time. I am not even sure if Correia got a good hit in. Rousey came out fighting and didn't stop until Correia was on the ground.
At the weigh-ins, Correia was screaming in Rousey's face to not cry. Correia also tried to look tough and ended up looking like a fool. We all knew that Rousey was going to kick her ass; it was just a matter of how long it would take. So when Rousey knocked Correia out, she turned around and told her not to cry.
Rousey has every right to be a cocky fighter. In 2014, she knocked out Alexis Davis in just 16 seconds. Earlier this year, she won the UFC Championship title in 14 seconds. This became the fastest time in UFC Championship history. Right now, Rousey is ranked the fourth best pound for pound UFC fighter in the world.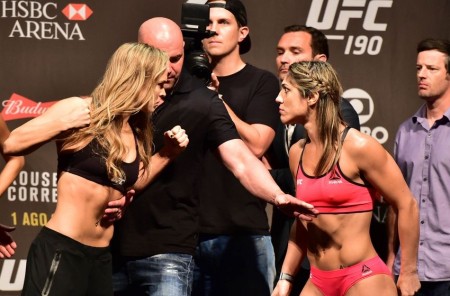 The feud between the two fighters started back in May when Correia made some unnecessary comments about Rousey. Correia said, "She can't handle pressure, I will give her the opportunity to try and get the belt back. Please don't kill yourself – don't commit suicide, because I will give you the rematch." Sadly, Rousey's father committed suicide when she was young so that really hit a nerve with Rousey. Correia also made accusations of Rousey having an eating disorder and having issues with drugs.
After that, Rousey was on Jimmy Kimmel Live and she said that Correia is going to walk out of the fight looking different than when she walked in. She was very confident and showed no hesitation for her hate for Correia. When asked why she chose Correia's hometown of Brazil as the fighting spot, Rousey said she wants to humiliate her in the worse way possible, which Rousey successfully did.